May 7, 2013

Posted by Lauren

under

Running
Oh hello there! I guess it's been awhile, but I can't imagine there's anyone out there besides me who is keeping track. Even the spammers are still under the impression that this remains a regularly updated blog (I swear I'm getting way more spam comments daily than I used to get in a month. What gives??).
Anyway, we survived yet another move and are slowly getting settled into the new place. It's crazy how a house can start to feel like home so quickly.
I think even the pup is excited about the change.
I've been trying to weasel my way out of many of the unpacking duties by sneaking out for runs around town. There's nothing quite like exploring on foot. It's by far favorite way to get to know a new area. And lately I've been especially giddy because there's just so much more to see.
There were only 3 real roads that ran through the center of our old town. Three. Have I mentioned before that we lived in a teeny tiny village? This basically meant that on any given day, I could head out in one of 4 directions to get in a decent run. It goes without saying that those roads and I got to know each other pretty well over the past year. I knew all their curves, their climbs and falls, their shady and sunny spots, beautiful views, landmarks and conditions. This obviously didn't make for many exciting runs, but there was something comforting about it. I loved how easy it was to zone out and enjoy a mindless run — just letting the road guide me without much thought. I ran those roads so often that running was always on my mind. I would drive from place to place and imagine myself running along that same stretch — picturing myself feeling strong and fast and flashing back to recent runs.
It was sad to leave those familiar streets behind, but I can't say that I wasn't looking forward to some new running adventures. Because, you know…after the umpteeth-hundred run in a particular direction, things are bound to get just a little monotonous.
So in my past week of run-exploring, here's what I've learned.
Every run is a hill run. Yeah, I know I said that my old town was hilly and you're probably sick of me talking about it, but that was all back when I was a naive flatlander experiencing Vermont running for the first time. Don't get me wrong – I had some tough runs around my old house. But I kind of knew how to finagle the routes so that I could avoid the worst climbs on all but long runs if I wanted to.
Just a sample from a recent run. That dark purple area = 11% grade. Fun stuff.
But here? I don't think there's more than a mile of flat land anywhere in the near vicinity. And the hills aren't your nice friendly little rollers that make a running route fun. These babies all seem to be of the "sucking wind, doubled over, practically walking up" variety. I don't really know what I expected. When you essentially live at the base of a ski mountain, hills sort of come with the territory.
At least they come with some pretty amazing views.
Looking forward to the day the Green Mountains actually turn green again
Speed work has morphed into hill work…at least for now. With the aforementioned climbs I seem to face wherever I turn, my average pace isn't exactly something to brag about. So instead of running the same tiny stretch of road over and over, I've just decided to embrace the climbs. I may be slow and my tempo runs may not exactly be at a tempo pace (or anything resembling "fast"), but my soaring heart rate and burning lungs would suggest otherwise.
More than ever, I'm really hoping the old adage "hills are speed work in disguise" holds true.
Pictures don't really do it justice…
Every road is a dead end. Or most of them anyway. So much for walkabity. I know this is what happens when you move out of the city — the privacy and quietness of dead end streets is still valued more highly than grid networks…at least outside of the village centers. Plus, you know, things aren't exactly developed out here. When we first moved, I was so excited by the sheer number of roads I now had to explore. But after a little over a week's worth of runs, I have come to the conclusion that most of the roads follow the same format: climb up super steep hill, turn into dirt, end abruptly. My running routes look a little funny with all the mini out-and-backs, but hey – it's all part of the adventure, right?
Finally (and most importantly):
If it looks sketchy and it feels sketchy, chances are it IS sketchy. And you should turn around immediately.
On one of my very first runs here, I randomly turned off into what I thought looked like it could be a nice neighborhood. But the paved road quickly got narrower and the houses got more spread out. By the time the road turned to dirt, there weren't many houses in sight. A quiet little voice in the back of my head told me to turn around. But the road went around a sharp bend and started climbing up a hill, and I just had to see what was at the top. I came around the final bend and was greeted by a strange tall, unfinished little square tower (seriously – so weird looking). At first I thought it was just a construction site. But a few more steps revealed a large piece of land with all sorts of random crap strewn about. And a metal trailer with something in black painted on the side. I squinted, ran a few steps closer and was just able to make out "STAY A" when I noticed the other identical trailer with an equally friendly message:
"STOP STEAL GET SHOT"
Welcome to rural Vermont.
All I could picture…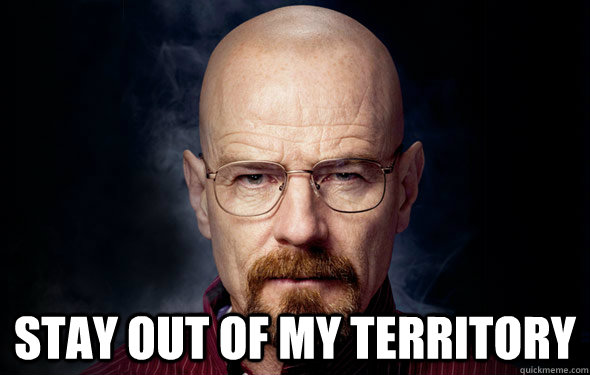 While I had no intention of doing any of those things, I figured it was probably better not to take any chances. I immediately turned around and fled from the scene as fast as fast as I possibly could. Needless to say, that's one route I won't be taking ever again.
Anyone else have any "sketchy run" stories? I can't be the only one who gets herself into trouble by her need to explore new routes.
---
It's only Tuesday, but this week has already felt so long. I guess when you compare it to the never-ending horror of the week before it shouldn't feel that way at all. But truthfully, between everything that happened — the bombing, the explosion in West Texas, the devastating earthquake in China, and the tense manhunt more »
I didn't run my half marathon this weekend. We had some stuff come up with our family that resulted in a last minute trip out of town, leaving me with yet another DNS to my name. Selfishly I was disappointed. No runner wants to DNS a race they've been training for, and I seem to more »
Yesterday I ran my first 20-miler of this training cycle. No matter how many times I've covered the distance, 20 miles always feels really far. Seriously – what is it about the 20 mile distance that makes it feel so much longer than a run of say, 18 miles? I ran 18 a few weeks more »
Lately I've been doing most of my long runs on the same out and back section of road. Every weekend it's the same. Head out along the road that I've come to know like the back of my hand, get to the turning point, and then head back the way I came. Not the road…and more »
Next Page »